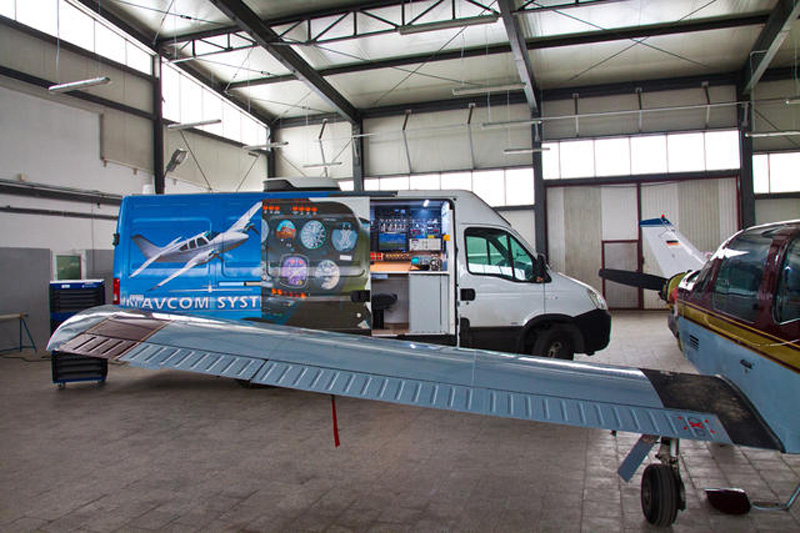 Mobile Operating Base:NVCOM SYSTEMS was the first and only company in the Polish market that implemented a fully self-designed and self-made "laboratory on wheels". This is an entire new way for servicing, repairing and maintaining aircrafts. MOB is a complete and self-sufficient mobile diagnostic laboratory. Thanks to it we can get to the client any time and in anywhere, regardless of the technical state of the aircraft or the weather conditions. The client only needs to provide us with a parking space.
Our MOB's construction (currently we have three units) is based on a common delivery track platform, where we installed high-tech measurement equipment that allows us to test the electrical and electronic systems directly in the aircraft without the need to disassemble the aircraft.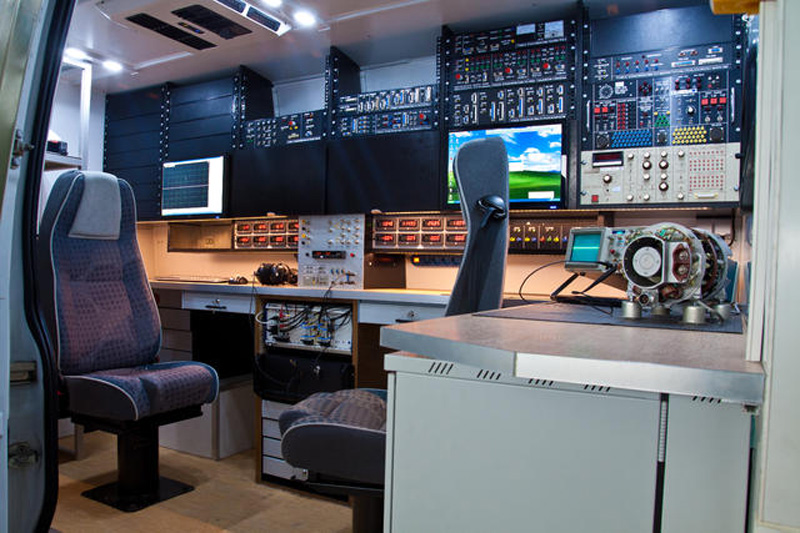 The comprehensive and specialized equipment of our MOBs allows us to do a full range of maintenance work on-site: disassembling, servicing, repairing power train including power transmission, and testing avionics modules. The MOB has its own power supply or may be connected to a power grid on-site. If we do not have the option of connecting to the MOB to a power grid (for example, we must do the maintenance or repair on a site without infrastructure), the MOB is equipped with an independent energy generator (6,5 kW). This not only provides power for all testers in the MBO, but also power for the damaged unit that allow us to recharge the aircraft battery. Testers let us check every onboard avionics part including VOR navigation system or 6-channel satellite navigation GPS.
Additionally, our MOBs have a software, created exclusively for our needs, that allows simulating work of any tester (i.e. VOR or oscilloscope testers). The rest of the specialized equipment is transported in individually designed cargo room in the back of the car. We have there i.e. unique windlass that simplify the process of loading and unloading of a toolbox or hydraulic cart.